Yikes week 4....already?
I have to admit, I haven't had a super productive week. I debated not even posting anything this week because I have nothing fun to show you. We went fabric shopping last weekend. Unfortunately, I couldn't find enough of the fabric I needed for the draperies (I will have to order online...) but I did snag 10 yards of pom-pom trim.
I also went ahead and ordered a fitted crib sheet. It should arrive today. I just felt better about ordering a fitted sheet that was already made verses home-made. I found this skip hop dotted sheet on clearance and it will work well with the Arklow paisley fabric. I like to keep a few sheets on hand for those times when you are laundering one- so I'm going to keep my eyes open for different print so I can have two different looks.
I ended up using the Arklow paisley on the crib skirt which I got done yesterday.
I went with the tie-on method so the skirt will be adjustable as we lower the crib. The whole crib skirt took me 30 minutes. I don't know why I've been putting it off for so long.
(sorry if you are tired of seeing photos of this fabric every week)
Ribbons make adjusting a breeze.
I think I'm also going to make a crib bumper even though it won't be used 90% of the time. I just feel like the crib needs a feminine touch on the bumpers- either a ruffle trim and bows or a pleated trim and bows. Using the crib photo below for inspiration.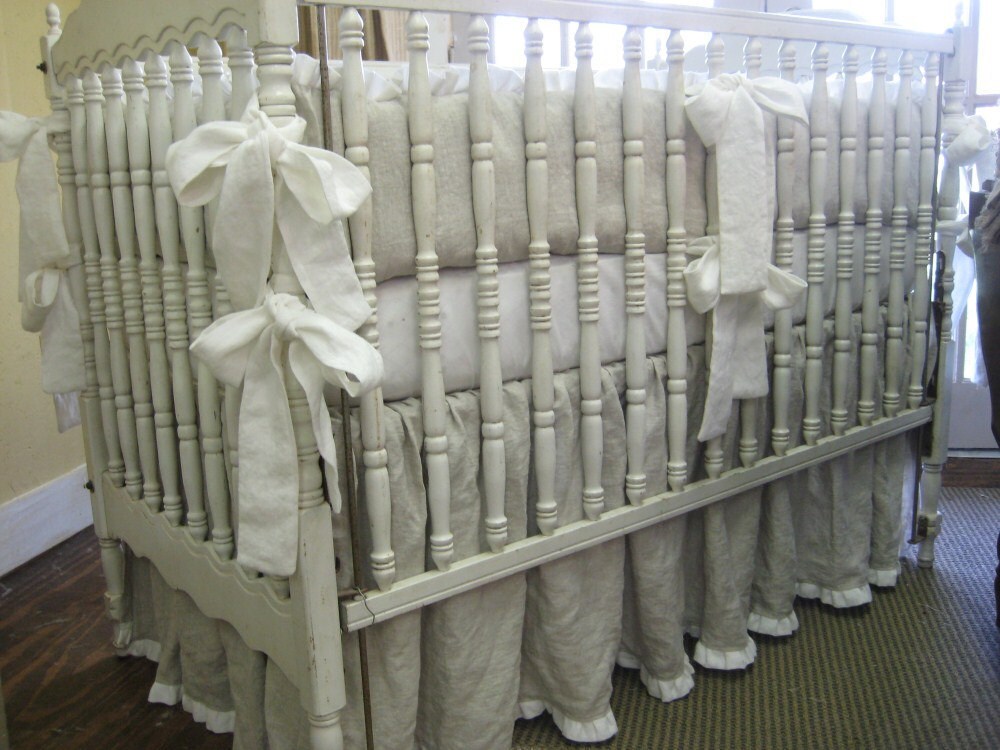 I also found this complimentary blue-gray throw pillow at Tuesday Morning for cheap. It matches the blue-gray in the paisley just perfectly. I plan to use it on the upholstered glider.
I've also been keeping my eye open for some fun artwork. I found this piece I just love by Sarah Robertson. However, it is not available anymore. I'd like to find something a little unexpected/untraditonal for the nursery walls. I think it'd be fun to pass on a piece of original artwork to her...but with my small budget I may have to DIY something.
Thanks for stopping by this week. I hope I didn't bore you all to pieces- I promise I'll try to have something more exciting to share with you next week.
If you want to see the rest of the ORC participants click
HERE
.