Good Morning Friends!
I'm still working away on the nursery in my free time. I must say I feel so much better about things this week!
Our Jenny Lind crib finally arrived and it was super easy to put together....it actually took longer to disassemble the old crib than it did to put together the new crib. It looks and fits so much better in our small space.
I laid out the paisley fabric and tucked some burlap in underneath the rails to see how they worked together...I love the combination of feminine paisley with the more rustic burlap. But I'm still toying with fabric ideas....I'm trying to find some complimentary blue/gray fabrics that work well with the paisley print, but don't make the the room feel too boy-ish. In my mind, I have a tiny brown or gray pin dot fabric planned to coordinate.
Potential crib sheet options: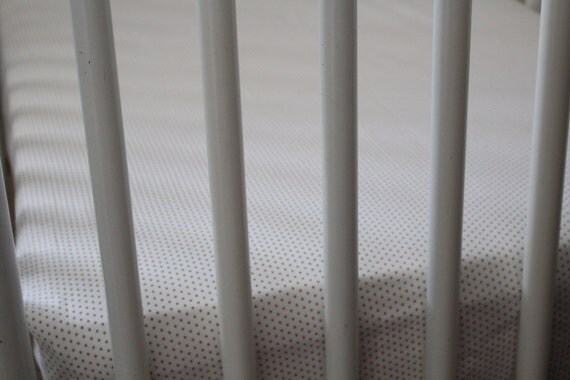 I also got the little barn-sale table painted last weekend. I went with Accessible Beige by Sherwin Williams....it was leftover paint from our kitchen and it works. It's not crazy exciting, but it sure looks a lot better than it's "before" state. I'm still debating on whether or not to skirt this piece.
My BEST find of the week came when I discovered this dresser on craigslist. I actually attempted to purchase this piece a month ago via a facebook for-sale page but the lady told me she wouldn't hold it for me. It was located about an hour from where we live...and I just wasn't sure it was worth the drive/hauling hassle (plus, I thought I could just purchase the other dresser at the antique store....). I really prefer looking at antique pieces in person, so I totally respected her decision to not hold and moved on with life. I figured it sold because there was quite a bit of interest from other buyers on facebook. She had it listed at $175.
That was until a month later (this week...) I hopped on craigslist and saw she had re-listed the same dresser for $75! Now we were talkin'! $75 was totally worth the hour drive/hauling hassle in my opinion. And Mr. Cattlebuyer just so happened to be passing through the town it was located in the next day, so I begged him to stop by and check it out. We ended up getting it for $65! I can't believe it....lady luck was totally on our side. I think the lady was eager to sell. You can't tell in the pictures but this piece is larger than your typical dresser, its actually more like a tall chest of drawers. It's about 43" wide by 39" tall.
I just LOVE the big wooden knobs and key holes. It's perfect.
I also found a new inspiration picture for the draperies. I just adore the scalloped-pom pom edge. So fun!
That's about all the progress I've made this week. I hope you'll come back next week to see more. My goal is to get the fabric selection finalized and hopefully get a items sewed up!
Be sure to check out all the other ORC participants by clicking
HERE
.