Happy Monday! Just gathering up my random thoughts from the weekend.

One of my favorite things in the whole wide world is studying/learning from other designers I really admire! I am always up for listening to a online seminar or reading an article or blog post on an hot design topic. It just feeds my design loving soul.
Lately, I've been watching some of Tobi Fairley's CreativeLive via House Beautiful Courses. I've admired Tobi's work prior to watching her live, but I have a whole new appreciation after listening to her thoughts! She mentions lots of great points about function driven interior design. Why oh why couldn't she have been one of my professors in college (I think I would have paid way more attention had she been my professor!) She also has courses on how to create your dream space/incorporating color into your home.
Here is the link if you'd like to watch a free episode of Tobi (she shares lots of good up to date information!)
http://www.creativelive.com/courses/function-driven-interior-design-tobi-fairley
Also if you love Sarah Richardson (I miss her on hgtv, her show was the only one I ever use to watch when my little guy was a baby, her show always came on during his nap time *ahhh...naptime...sigh, i miss those days*). I've also enjoyed listening to "reader questions" her via website. She always answers questions so perfectly...you might want to check it out. And seriously Tommy is still her sidekick. Tommy rocks!
http://www.sarahrichardsondesign.com/watch
............................................................................................

And because I love sharing "good" finds with y'all, I found this table (it also comes in black) on Home Decorators Collection last week. I was so excited when I stumbled upon it (it's even on sale and comes with free shipping!) I've been looking for something similar for months! And nothing makes me happier than furniture that pulls double duty! Not only does this piece function as a filing cabinet, it also would work great for a media console (you'd have to run the tv cords down the legs), or as a sofa table behind a floating sofa, or as I'm using it in my house as a buffet/serving piece in the dining room. The possibilities are really endless! The deep drawers are great for storing anything (they don't necessarily have to be used as a filing drawers) and best of all you can even add baskets on the bottom shelf to hide even more stuff! It is a bit of a bear to put together (definitely takes two people). But the thing is HEAVY and substantial for a budget price!



I also have to say I've been thrilled with Home Decorators customer service as well- they are based in the midwest (Missouri) too which is awesome! I purchased this table shortly before it went on the "outlet" pricing sale and they credited me back the difference in price just by calling them and letting them know the situation. They also offer free shipping almost always or you can order many of their items through Home Depot's website and get free site-to-store shipping if you want to save a little there too! Not to mention all of their pieces are substantial and so reasonably priced! I will definitely be doing more business with them in the future! Love a company with good customer service...it's so HARD to come by these days!
...........................................................................
Up next, are these darling latte bowls that are on sale at Anthropologie through today. They have great reviews and seriously are they not just the cutest and most cheerful bowls you've ever seen. I'm putting these on my "wish list" for my birthday.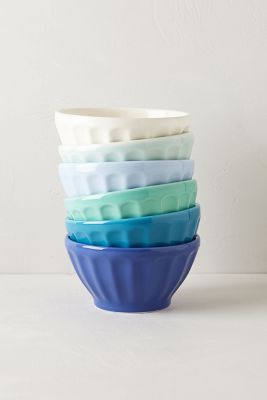 .........................................................................................
Ballard Designs
is also offering 20% any item through tonight.
Here are some of my favorite items:
Herringbone Jute rug:
Laurent 4 light lantern:
Lulu embroidered pillow:
Vert Botanical Art:
Of course there are tons of other great items, definitely take advantage of their sale if you have your eye on something!
.................................................................
And lastly- HAPPY BIRTHDAY to my mother-in-law (and #1 blog reader), Sherri!
Hope you all have a wonderful day! :)