Lately I've been thinking a lot about my little guy's room. It sadly has been on the back burner since we moved in! I really thought it would be one of the first room's I tackled and completed because I really love working on little kid spaces. But once we moved in I realized how little my nugget actually uses his room, besides sleeping, it doesn't get much use since it's upstairs- he rarely goes up by himself to play or read, usually he just brings his toys down to the living room and hangs out there.
Thus, I haven't made it a #1 priority to get it "done" but I decided I'm going to slowly start working on it. We bought his antique spool style bed last fall, and it has worked out great! I'm so glad we went with a full size bed. I originally wanted two twin size beds, but the full size has been a great transition. I debated painting it when we first purchased it...but for now it still remains in it's dark stain. It has grown on me, and I think if I paint anything it will be the other pieces in his room.
Lately he has been using a hand-me-down comforter and these
dinosaur sheet
s. Which has worked out okay...but I'd like to get him some additional bedding.
Then I stumbled upon this chenille polka dot bed spread (sorry all they had for a stock photo was the sham which I didn't purchase....but imagine this pillow only in the form a bedspread). I thought it was so fun and different! It looked like a vintage chenille blanket only without the cooties of buying an old blanket (we are kind of germaphobes around here...) :)
I thought the polka dots might be too "feminine" and cutesy for a little boy but it totally reminded me so much of Erika's bedding from these photos she took below. To me, the space/bedding doesn't feel feminine at all. I love how she mixed the textured polka dots with a deep rich java wall color, the unexpected orange bed (my little guy's favorite color!) and warm antique paintings. It all works together so well! The chenille bedspread adds so much texture to the space....I really love it. I think my little guy will too. I figure by the time he outgrows the "dots" I will find another use for it.
I'm thinking I will mix the chenille bedspread with a unexpected buffalo check duvet at the foot of the bed. Leaning towards the affordable ikea emmie ruta.
And then maybe throw in some fun orange or green pillows for an accent colors: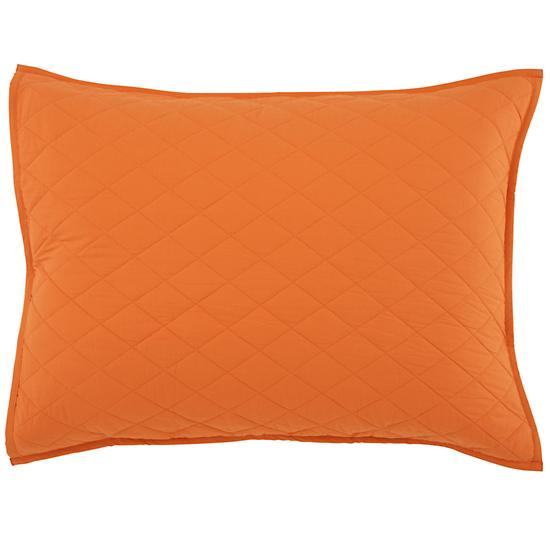 maybe a boyish monogram pillow too, just to make momma happy! :)
Anyways for now (things might change knowing how fickle I am...) this is the plan! I hope to get his bedroom painted this spring and then I will start posting photos!