Hope y'all had a great weekend! The sun is shining here so today feels like it's gonna be a great day! I don't have anything too important to share, just some of my recent random discoveries and thoughts.

1.


Banana Bars >Banana Bread
I know...I am probably the last person on the face of the planet to discover this...but seriously don't waste your overripe banana's on bread any more. I followed
Darby's Frosted Banana Bar recipe
, it's a real keeper! This made way more than enough for our little family of three so we took a plate of them over the to neighbors to enjoy. They are rich and are definitely not fat free so don't make them if you are watching your weight in 2014. I will probably 1/2 the frosting recipe next time because a little goes a long way.
image cred
2.
Also, I don't know if I told y'all but I went ahead and ordered a headboard for our Master. We are on a budget furnishing our new house so I needed something super-duper affordable and this Greyson Headboard fit the bill perfectly. Hubby was skeptical given where we ordered it from, but honestly it exceeded even his expectations. It was on sale right before Christmas so I feel like we got an amazing deal. And like many of the reviews I feel like it is a 5 star headboard. I ordered the gray colorway with black nail heads and it definitely has a brownish gray look to it, but it still works for us so I am pleased. I will try to photograph sometime soon!
3.
Back to food....I'm really trying to be more intentional about making good dinners. Cooking is totally not my thing. I can admit that. I'm learning as I go and I feel like every year I get a little bit better. But one thing I have realized is if I give myself the right "tools" I am way more likely to cook something for dinner. One of those tools is having a stocked pantry. I don't know why I never realized this before (shame on me.) But I never kept enough stuff on hand (part of this was because we had like 3 cupboards in our last residence and let's be honest there was no room for any extra anything!) Like for instance, I would have a can or two of veggies, but no canned chicken or pasta or what have you. I would then be stumped as to what to make and then consequently resort to a frozen pizza (gasp!). I've realized if I keep on hand a nice variety I will always have SOMETHING to make. So that is something I'm working on in 2014- well stocked pantry and it doesn't hurt if it's pretty on the eye, here are some of my inspirations (granted mine will never look like these, but a girl can dream right?)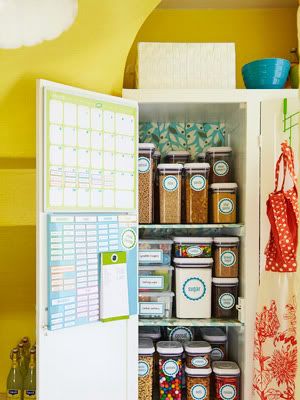 4.
How cute are these napkins? I really want to dust off my sewing machine this spring. Thinking about starting off small with some easy project like these.
5.
Yep. this is so me...the weirder the better! Usually ;)