Brick floors.
I've always appreciated their gorgeous color, texture, and patterning they add to rooms. I particularly like them in casual, foyer/entryway settings. They just seem like the perfect fit for that transition space between outside and inside. They hide everything and despite being a little cold on the feet, their warm reddish brown color can visually really warm up a small space. Plus they are a little unexpected (you don't see them very often around the midwest).
I absolutely love everything about this foyer. The white washed walls, the gorgeous dutch door, the rustic light, black and white gallery wall, and of course those yummy floors.
I also really appreciate this more refined version of brick floors, how cool are these one's below? I'm dying over the brick + wood combination. They play off each other beautifully and dare I say it makes the brick feel a little more elegant and less rustic.
Brick laid in a herringbone pattern is always perfection.
More herringbone brick goodness: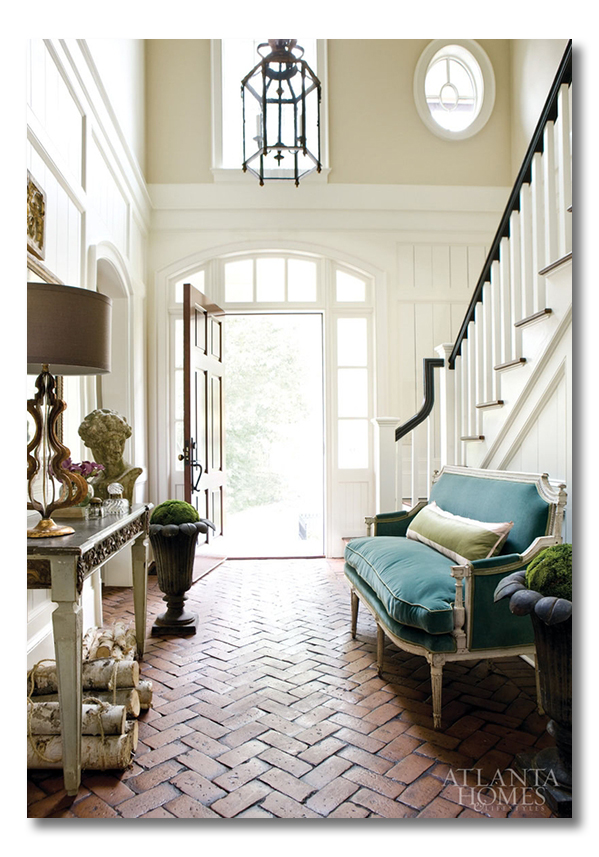 Total rustic country brick floors. They are nothing real fancy, but no other flooring would fit as good as these brick floors do for this casual mudroom space.
So what do y'all think about brick floors?
I think in the right house they can be a wonderful unexpected fit.